21/09/2017
According to the Association of Investment Companies, IPOs have increased ten-fold and assets hit an all-time high, while secondary issuance has reached a record level this year.


David Ward, Associate Sales Director, manages a number of funds clients including advisors Canaccord Genuity, Cenkos, Peel Hunt, Stifel Nicolaus and Winterflood Securities, as well as investment managers such as Jupiter Asset Management and a number of fund administrators.
"It's been a record first half for investment company work at Black&Callow," says David. "So far this year, we've worked on a number of new issues, which are themselves among the largest IPOs of the year in both the UK Main Market and AIM Market, ranked in terms of new funds raised. These included Sherborne Investors (Guernsey) C Ltd's £700m IPO; BioPharma Credit PLC's £300m IPO; AEW UK Long Lease REIT's £150m IPO; Supermarket Income REIT's £100m IPO; Jupiter Emerging & Frontier Income Trust's £90m IPO. We also helped investment manager Greencoat Capital list Greencoat Renewables on both the UK and Irish Stock Exchanges.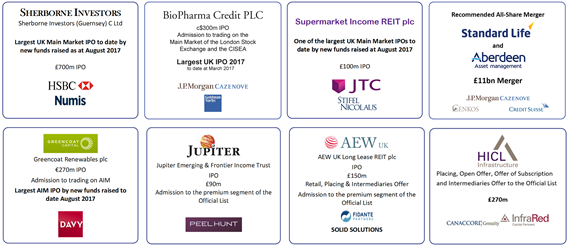 "Ian Sayers, Chief Executive of the Association of Investment Companies, picked up on this in his 13 July Press Release, noting the "… substantial demand for investment companies. It's interesting to note that much of the issuance, both new and secondary, took place in high-yielding, alternative asset classes such as debt, property and infrastructure. This reflects the suitability of the closed-ended structure for investing in these types of illiquid assets and continued investor demand for income….. H1 2017 saw 10 investment company IPOs raising £1.5bn, a dramatic increase on one IPO which raised £80m during the first six months of last year."
"One reason perhaps for the rise in investment company IPOs is the demand from investors for a more cautious approach. Classic company IPO investment can be quite volatile, with the odd stock price collapse at some stage post-IPO, while investing in funds has a higher chance of providing a more stable return.
"At the same time, it's been a strong year for M&A activity too. The first half of the year saw us helping with M&G High Income's rollover into JPMorgan Managed Elect, while on a broader playing field, we helped Aberdeen Asset Management with its £11bn merger with Standard Life.
"The speed with which these deals need to come to market is a contributory factor in our success. Unlike many of our peers, we don't outsource the critical typesetting operations – indeed, in our London offices we currently have the largest in-house financial typesetting team in Europe. This helps ensure control and flexibility as well as speed.
"And of course, both Investment Company managers and their advisors are seasoned professionals who demand the very best service. Our World Class Service accreditation from the Institute of Customer Service is independently verified, and we're the only company in our space to have this so, so it's an important factor for our clients too.
"At the same time, we can offer new technologies such as iRoadshow, our online investor roadshow platform, which provides management with greater insight into investor activity than other platforms, adding value for the client while minimising costs."
If you'd like to know more, please contact David or any of the team at Black&Callow on 020 3794 1720 or via sales@blackandcallow.com.