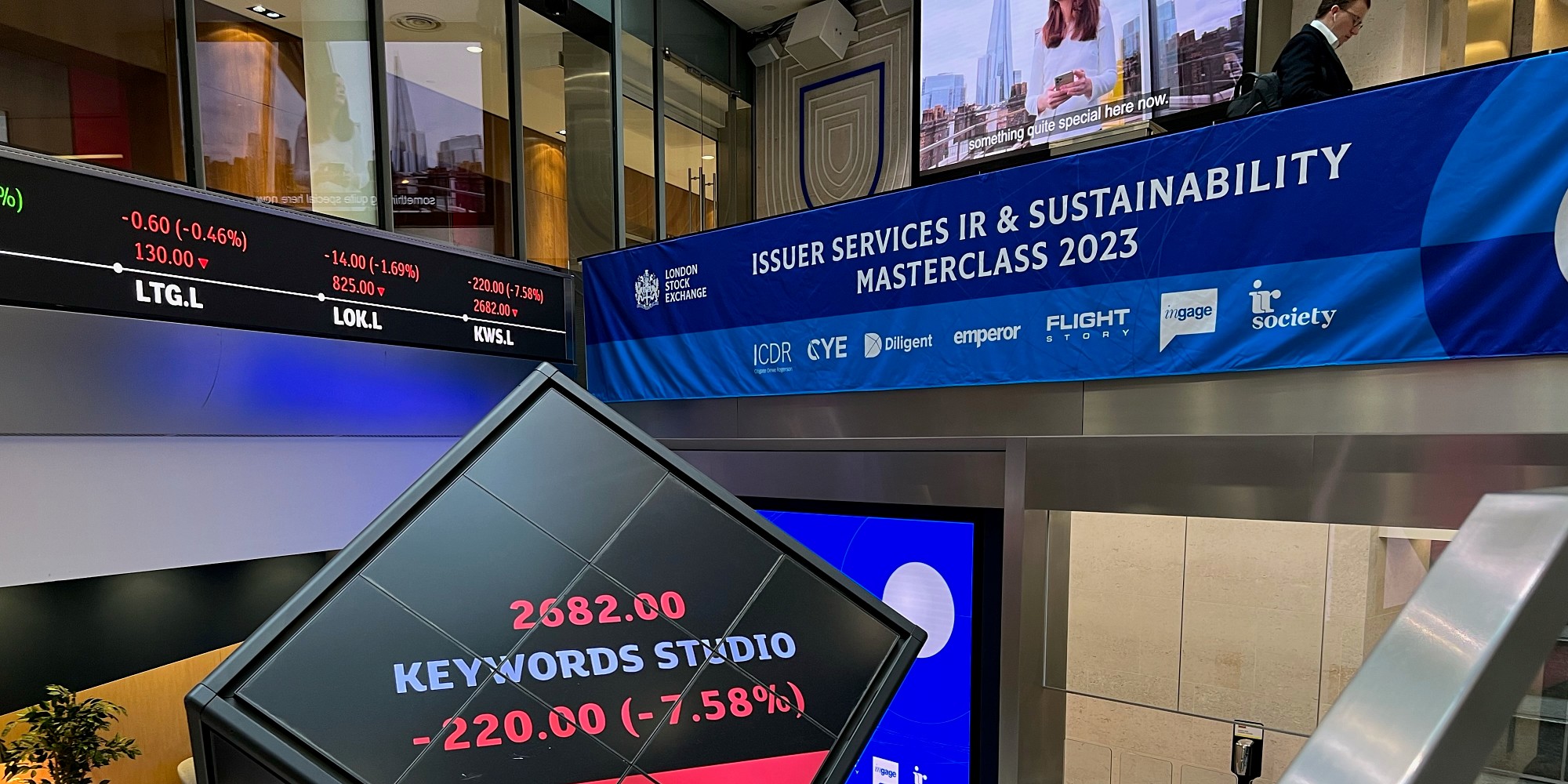 16/03/2023
Key takeaways from the panels at yesterday's "IR & Sustainability Masterclass" at the London Stock Exchange.
The 'Equity Story'
While companies now have more stakeholders than ever and there's more data about them online, investors and analysts have less time for deep diving into company metrics to gain real insight. First impressions count, followed by a consistent and relatable narrative – getting there, however, poses some challenges.
So where does a company start in getting its 'Equity Story' right?
· Keep it simple. Get to a succinct story as to why you are different.
· Create a memorable hook – find something 'ownable'.
· Back it up with proof points – evidence to back up that memorable hook.
· Be authentic and transparent – investors can see through unrealistic or meaningless claims.
What's important to investors, and what's the direction of travel in 2023?
· ESG: setting aside environmental issues, investors do care about social and governance. Performance and commitments in these areas are critical.
· Purpose: it's ok to be on a journey; investors want to see actionable progress. What steps are you taking to meet your purpose?
· Messaging: find the things you want to say internally and externally. Be consistent: the same message but delivered in a way tailored to each audience is the most effective way of getting your consistent message across.
· CMDs: short, succinct 'teach-ins' or 'strategic updates' are more likely to appeal to busy investors than a full Capital Markets Day.
· Engaging with Social Media: Take the time to understand its dynamics. Listen to your audience and their feedback, and act accordingly. Don't be afraid of engagement; the best companies embrace it.
Strategic investor engagement
· Think carefully about how you engage and be willing to innovate.
· Infographics & graphics can convey meaning more interestingly and engagingly than a wordy PowerPoint.
· Virtual and in-person meetings are both critical in driving engagement.
· Trust and authenticity are key whenever you engage with stakeholders.
· Data is becoming increasingly important in helping you get the best out of investor roadshows.
Bearing in mind the above: how can Black&Callow add value?
· Our iRoadshow platform provides unrivalled data from your investor engagement. From who's looking at your key information, to how long they spend on each page, what they're annotating, and what they are – and aren't – looking at: data in real time, from high-level to granular detail at the touch of a button.
· Corporate Reporting: Best Practice is changing. ESG needs to be really integrated into your story. What exactly do investors want to understand? We help you understand the changing requirements and how to articulate your story as effectively and engagingly as possible.
· Investor Deck design: Busy investors, analysts and other stakeholders can quickly become disengaged – 'death by PowerPoint'. We can create a vivid, dynamic visual language for your investor decks, with graphics and infographics which tell the story succinctly and engagingly, adding to your brand equity in a way few other measures can.
For more information about any of these topics, contact Tim Black today.
With our heartfelt thanks to the London Stock Exhange for their kind invitation to participate in the event.